Tuesday, February 13th, 6:30pm
Pruning Trees and Shrubs
Learn how to proper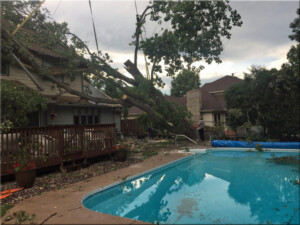 ly prune woody ornamentals and when it may be better to put the saw down. Wild Ones member Jeff Kante is a retired Forester for the Village of Chenequa in Waukesha County. Jeff was in this position since 1980. He is currently the state chair for the Wisconsin Society of American Foresters.
Jeff received the Mike King Wisconsin SAF Field Forester of the Year Award in 2015. Read more about it. Field Forester of the Year.
Jeff also provides consultation to private landowners on topics ranging from control of invasive species, insect and disease issues, and woodlot management. As part of his oak wilt identification and control program, Jeff inspects previously discovered pockets of oak wilt for expansion and patrols local roads for trees showing symptoms.
Please join us with your questions about pruning your woody ornamentals. Maybe you won't be able to avoid this homeowner's tree disaster, but you will find a wealth of knowledge not always available for FREE to homeowners.
This event is FREE and OPEN to everyone!
---