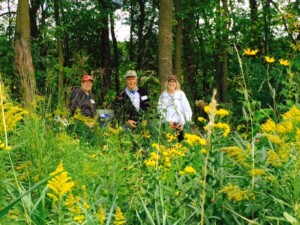 The Menomonee River Area Chapter kicked off our first meeting in September of l997 in the basement of the public library. Three former members of the original ?North? chapter, who had become friends, wanted to expand natural landscaping closer to where we lived and hoped that our urban yards could provide the habitats and plants that wildlife needs for food, shelter and a place to raise their young.
Throughout the years we have met at various places for our indoor meetings, but now have settled in at the Menomonee River Public Library for our indoor meetings. Our wonderful and expert guest speakers provide information about plants, prairies, woodlands, insects, birds & bees. From May through September we travel to tour yards, parks, woodlands, etc. to learn more about the plants in their environments. Our November meeting is always a social for members to share native seeds and treats.
Include the basic info about your chapter such as the "about us" content. ?At times we have had project meetings when we built Aldo Leopold benches, bat and bird houses, twig-grids, made grapevine wreaths and stepping stones, dyed Tshirts, painted prairie flowers… We have a very active and friendly membership, and most of our meetings are open to the public.